Books, Giveaways, and Way Too Much Talking. 🐞
Lovelies,
This might be a little long. I haven't really caught up in a while and this week has been, well, a bit mad. XD
First, enter for Alina's most recent giveaway before the clock runs out. It's 14 Gay Vampire stories! One lucky winner takes all.
Holy crap, people. You seriously came through. That it didn't even take a lot to help this girl and her family get her propane crisis taken care of is amazing. If you have ever looked at a mountain of $500 trying to get to the top when you have nothing to spare, that doesn't just materialize. What a damn amazing thing.
Unfortunately, if you've been keeping track of Amy's updates, her truck broke down a few days after the start of the go fund me and her family discovered some pretty severe health problems for her mother. At first, I seriously looked at this like a downpour of misery and despair. It's so easy to feel like the world is kicking your ass, one attack after the other. I wish my mind didn't automatically go there, right to the negative, because it's not true.
The moment Amy reached out for help, the world started dumping, but it was right at the time when there are so many people that could help carry that weight when before it was just her and her family. A piece of a burden is so much lighter than many all on one back.
If you can spare anything, please go to Amy's page and make a donation. It doesn't take much when we all give a little but the end result is fantastic. If you can't, please consider sharing her gofundme on facebook or twitter (or whatever social media is thriving now.) Every bit helps.
Okay, I started talking to an actual professional book cover designer. I reached out to her a while back, but she was seriously busy. She is still seriously busy but I have my fingers crossed she can fit me in.
I love her art. I saw her do these covers like years back before I was even thinking of writing and publishing and totally fell in love with her style. She's only gotten better as the years have gone by, and I was shocked when I saw some of her more recent works. It's still that same flare of paranormal elements and elegance, and oh my god, I gotta take a breath here. XD
So yeah, super excited. We're talking about a 'branding' for The Paranormal Academy For Troubled Boys series. It's really early in the brainstorming stuff (like probably a month before she can actually look at shit) but I don't care! I feel like a kid waiting for a birthday surprise. It's awesome.
If you want to check her out, she's on facebook.
Website Updates
I was late today, still am seeing it's nearly 8pm and I'm just getting this newsletter together. But, #4 is up for Fox Claims Vince, #64 for Sorcerer Slayer, #14 Intangible (should have #15 this weekend) and I put up two old M/F fics up there in the Library. Oh, and a new monthly freebie.
I've changed the layout to secure PDF's instead of downloads. I thought about it a lot. I probably should have just started with them; I was stressed a lot when KU crashed on me and I had to scramble. But recently I found 25 (but in actuality, all but 2 of my books) on one of those book hack sites. Most had been there for a while, some as far back as 2015, but it got me thinking a lot.
The world is changing and it is not going back, only forward. So I can lament, or I can adapt. And if you don't know me well, I am big on evolution. XD So let's see how it goes. I think anything that turns my site into a hub where people have to come back to read, is good for. Helps people remember me, and that's the big thing for an author; being remembered among the masses of amazing books out there.
My readers still get free stories, and can purchase the ones they really want to keep on their computers. I'm hoping that simple little price tag might be enough of a deterrent for the scammers. I'm not holding my breath; the world is full of unconscious people. It's up to me how I want to feel about it.
Amazon KU, Going Wide and Fine Health From Here On Out (fingers crossed)
Not even joking. 3 days before all my books left KU, Amazon fixed their problem. My page reads jumped up and stabilized. Had only 2 books left in there, but whatever. I'm rethinking my strategy going forward.
Oh, I'm not giving Amazon my full attention anymore, fuck that. If you're not schooled by being burned, then you're never going to learn. But for those KU readers out there, I will be releasing books into KU when I first publish. After the 3 month forced exclusivity, I'll pull the new book out and put it wide. That's 3 months of my books in KU. A compromise I'm more than willing to make when KU actually works. Let's hope by the time I get another book written and ready, KU will still be working.
Speaking of going wide, aka, getting books on other platforms, I'm looking at Pronoun to get the job done. They're a cool self publishing tool that allows for some great pricing on books, including perma free. I'm just dragging my feet a little bit now that the time is here.
I need to edit the old books. I thought I could just move forward, ignore all the mistakes, but the reality is, I look at my old writing and I see me so ill and bed bound.
I'm sure no one else sees it, but I do. I don't want to see that. I don't want my first self published books to remind me every time of how freaking sick and certain I was of dying. Fuck that. So I'm starting with the series: Wounded Hearts, A Mate Of His Own, Dragon Shield and I'm going to be editing them a little at a time until they're all done. Then the others.
Sometimes you have this ideal in your head you're never going to reach and you can just let go. This time, it really feels like my sickness is haunting me and I want to break free and cut clean. I have time, I'm not dying—I actually feel damn amazing now that I'm back to the Autoimmune Protocol combined with the allergy shots. Haven't even had shortness of breath in days, no brain fog, no wheezing. Outside of a fever, I'm fine and for all I know, the low grade fever is my thyroid kicking on again. My fevers are like a normal temp for most. Shit is good and I want to take this opportunity to form the future by choice instead of crazy reactions.
M/F
I started throwing some of my straight fics onto the website. I will eventually write a few more when I feel the mood. They just seemed lonely hanging out all alone. Yeah, it might lack a bit of focus seeing as it's a MM site, but I'm an author in general with varied interests and it's also about my writing. They're well marked and easy to avoid (or find) depending.
I have an idea for a fmm that's all outlined, probably a trilogy once I get through with it. Witch just waking to her powers while paranormals are being hunted, falls for two sexy (might be a form of vamp) paras in the cage. Witchhunters, kidnapping, gore. But I have a million ideas for MM so it's hard to know what the hell will be next. I seriously have like 20 books outlined. I wish I had a system to write faster.
Maybe I do have a system and just don't know it yet. I bet I could make a system… and then write a book about it. XD Ah, my wonderful monkey brain.
What The Fuck, Jeff Sessions?
And of course, a rant. XD
How many fucking people in this administration are going to play daddy for the entire country? Wagging their fingers and punishing people for having the gall to follow the constitution instead of them. What a scared, old man desperate for control.
You know how the big joke is all lawyers are going to hell? It's not because they're evil but because they take words that exist, ignore the spirit of what they mean, and just twist to get their way. The law becomes their playground while the importance of those laws are ignored. That's what I feel like when I look at the current administration in office. They ignore the spirit behind our laws, our civil rights, our freedoms and twist to destroy the foundation of what this country is all about. And really, what the fuck are they so afraid of? They have so much money, so much power, so many worldly goods, and they are fucking scared shitless of gays, brown people and any religion that didn't nail Jesus to a cross. What the fuck?
I feel like every single person in this world should have to live in absolute poverty for a year. Not as a punishment, not even as some sort of survival thing; it's an easy wakeup call to yourself. Being poor, having nothing isn't the end of the world. It doesn't define you, it doesn't change you, and it is not a life sentence. You know the difference when you see someone who has never really been stripped of the mundane and been forced to face themselves.
I find it so strange to see it in so many old, wealthy people. Always desperate to keep their head above water when they can't even realize they're on solid ground. The Great Depression wasn't that many generations away but this is a lesson really learned by first hand. Poverty doesn't kill you. Talking to strangers isn't a death sentence. Having to walk outside your bubble and face another human who is different from you isn't going to destroy you. Every single person is different no matter how similar they seem. You are alone and you are a part of the mass of humanity at the same time and this has been the case since people became self-aware.
It's an epidemic that lives in the head, fear. It doesn't matter how the world changes around us, people carry their view of the world everywhere they go. Some people could step into paradise and want to build a wall. Fuck, they made heaven a gated community without even confirming it existed. What a sad, pathetic way to live, never mind run a country.
It's work, I know it. I fight it daily. But you can see the world as it is instead of what you fear. Life gets so much better when you give it a chance.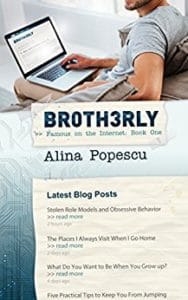 Tristan's love life has one simple rule: his brother, Trevor, is off limits.
To fight his relentless love for Trevor, Tristan left for college at sixteen. A new city, building a new life for himself, and making new friends weren't enough to give up what he considers sick, twisted feelings. Tristan even started an anonymous blog to cope with his love for his older brother. It made him famous on the Internet, but it wasn't enough to get over his obsession.
Every time he goes home, a quick glance at Trevor brings it all flooding back.
When commitment-phobe Trevor introduces his serious boyfriend on one of Tristan's rare visits home, things get a whole lot more complicated for the adoring kid brother. How far can Tristan run this time before he runs out of places to hide from his feelings?
Disclaimer: the main characters in the story are not blood relatives, the two boys were only raised as siblings.

Get this book collection of hot Gay Vampire romance adventures in this exciting new collection
In this collection you will find:
The Vampire's Bodyguard: Gay Vampire Werewolf Romance by Van Cole.
Vampire's Magical Touch: Gay Vampire MPREG Romance by Van Cole.
Love Of A Vampire: Gay Vampire MPREG Romance by Van Cole.
Redemption: Gay Vampire Werewolf Romance by Van Cole.
Download this collection now and spice up your Kindle with these hot Gay Vampire romance reads.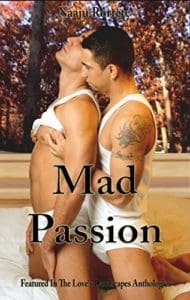 This is a story about two men with dissimilar struggles in theirs lives, joined by the force of nature and kept together by their own irresistible passion.
14 Gay Vampire Books Giveaway