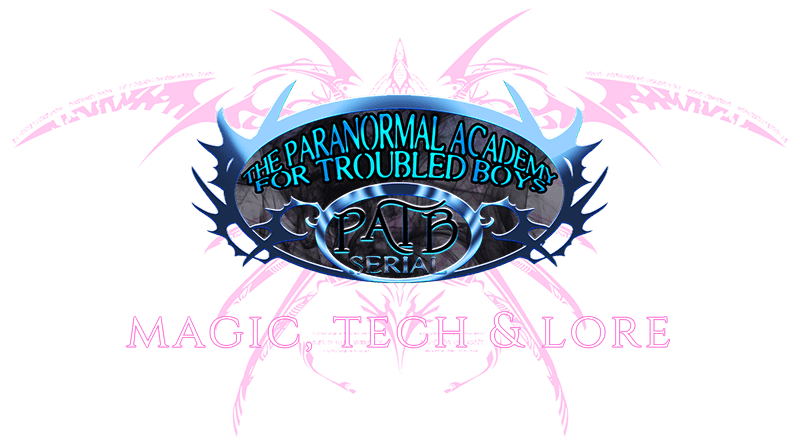 How does magic work in PATB?
So, for starters, this is a paranormal story, not a fantasy, so all my magic is made to work in a world similar to our own. Physics apply; limits apply—there is no breaking reality but bending the rules in place to make room for the paranormal. Magic is an energy—a paranormal energy—that occurs side by side with our normal energy, very similar in every way except for a few key differences.
1) Magic is energy that can be manipulated through will.
2) Magic is solely created in the bodies of paranormals.
3) Magic, unlike energy, does not experience entropy. (oh yeah, I fucking nerded this shit up. XD)
4) Magic needs will and/or to be connected to a paranormal, otherwise it becomes inert.
5) Inert magic requires a lot of energy to activate, the only exception being elemental magic users.
So what does that all mean? For the most part, people can't will energy outside of action. You can think something, but unless you actually do something, very little is going to happen to reach a goal. But with magic, that changes. Magic can interact with normal energy and matter, manipulating what's around the user to change the world as willed.
Magic can transform like normal energy does. It can be potential energy, willed by a sorcerer to be stored in wards/charms without any energy loss, therefore usable once the spell is triggered. It can be kinetic energy, willed by a sorcerer into spells/sorcery to alter the physical world. Because it doesn't entropy once triggered, magic can be far more powerful than normal energy, a little going a long way. But it isn't limitless; without a will to direct magic, it becomes inert, just existing in a potential but nonreactive form, spreading out in the natural world and eventually infusing with whatever it's around. This is how elemental magic comes to exist in the PATB world.
Magic is a byproduct of paranormals
The biggest thing about magic in the PATB world is that it only exists in active form because of paranormals. Their bodies can run on magic, produce magic, or both. The distinction is important. Some magic users are also made up of magic where they cannot function as a biological being without magic, while other magic users are merely capable of manipulating magic but cannot produce it. If a being needs to run on magic, that doesn't automatically mean their body will produce any extra that can be used in sorcery—but it's at least a very good sign that they will be able to will magic. Shifters transform the normal energy they get from food into magic to fuel their inner beasts—which is why they eat so much. And for all shifters, their flesh—alive or dead—will always have magic in active form.
This is really the core of how the paranormal hierarchy came to be. In some ways, magic is set by birth, aka, there is little changing a person's biological makeup to allow them to produce magic if they don't, control magic if they can't, or create more magic than their bodies naturally create. But magic can be stolen and stored. A magic user can drain a sorcerer dead, stealing whatever magic their body might be running on at its core, and storing it for use later—but it's a one time score. Once it's used up, the magic is gone, inert and a total bitch to make usable again. But a shifter? A magic user can kill and preserve every part they want of that shifter and use their magic for decades. And if it's a rare shifter like Wylie, whose body holds far more magic in it because of the nature of a dragon shifter, he could power a magic user for centuries, or his flesh could be used in energy intensive spells that otherwise would be impossible.
And Wylie wouldn't just be a battery for a sorcerer. They would also be able to steal his paranormal traits, like heal by harvesting his saliva, use a spell to activate his allure that's in his flesh, or have super strength and deadly scales if they stole his skin. A dragon shifter is a fortune of opportunity to the right magic user who is ambitious enough, which is why although shifters are hunted, it's the magical ones that tend to be hunted to extinction. Magic users aren't hanging out in graveyards, looking to steal the corpses of shifters—well, not as much anymore. >_> They go and either hunt and kill shifters, or they pay someone who does it for a living, aka, skinners. And in case you didn't guess, that means hunters have found uses for the more everyday shifters as well, keeping them alive so that they can fuel the magic they want instead of killing them outright. The shifter slave trade started as a way to harvest shifters for their magic, and then evolved from there.
Nullifiers and anti paranormal tech
So we've got this amazing energy source controlled by will that doesn't break down or entropy in the hands of a few select beings on the planet. Just what in the world do the normal humans have at their disposal to protect them from magic?
Visdevor and electrified visdevor, for starters. Humans discovered if they chemically bonded steel with visdevor (a synthetic compound I made up for this series) and added a current of electricity, they could create a field that makes magic inert, taking that once active and willable magic and turning it into an inactive form. Pretty badass.
They use this on howlers, cursed humans who have been taken over by the werewolf virus—because, yeah, we have magic based viruses in this world. The only issue is, a nullifier requires a ton of energy to create a nullifying field that can suck the magic out of a paranormal and turn it inert. Otherwise it's only useful on contact, mostly only capable of burning the skin. This means normal energy that can entropy is being used to fuel a weapon against paranormal energy that doesn't entropy, and depending on the source, magic can also activate inert magic at the time of casting, creating a chain response that can be larger than anticipated. Aka, to contain magic, you need a lot of energy, and fuel to provide that energy.
Nullifiers can either contain or kill paranormals depending on their exposure and how much of their biological body requires magic to live. This is the interesting difference between shifters and howlers: a shifter is human when in his human form, and therefore when hit by a nullifier, it will only damage their inner animal, requiring them to consume more energy and transform it into magic to recover. A howler, on the other hand is a biological being who is being taken over by a magical virus. In the early stages of the virus, nullifier technology could potentially 'cure' a human of the curse. But as a human's body is taken over and replaced with para-biological parts, contact with a nullifier will turn off processes that can lead to the death of a cursed human. Once a human is full howler, nullifier technology can kill them. This is why the giant electrified visdevor fences work against the plague. When the magic is being sucked out of a howler, it is sucking out their life force.
This is also a problem for halflings, who are beings whose bodies are part paranormal and part biological based. What might be a nuisance with nullifier tech for a shifter or sorcerer whose human forms don't need magic to survive, will be a crisis for a halfling whose life can be in jeopardy just from coming in contact with visdevor or a nullifying field. And if they're a demon, or have full paranormal biology? Their magic going inert can kill them.
This is why Collin McPherson has been leading research into the field of paranormal safe nullifying technology and has created the null-collar. It is still in developmental phases but he hopes that he can one day create a long term solution for howlers where their paranormal viral side can be suppressed without killing the host.
Is magic conscious?
So, there are some interesting things when it comes to magic in the PATB world that raises the question of if magic might actually be conscious. For starters, we have shifters, where the magical side of them has a completely different personality than the human side. The inner beast can like different foods, can want different things—it can even fall in love!—all autonomous to the human side's interests. That magical side can even take on its own form, a body of paranormal biology that can be shifted to at will. When it comes to shifters, it feels like the paranormal side has a will of it's own!
Then we have the howlers, aka werewolves. With a human infected by this magical virus, a distinct personality and physical traits occur. At the full moon, a howler's viral paranormal side gains power over its host, and when it does it seeks to spread its infection and take over more humans. This magical virus doesn't just seek to survive, but it manifests a personality of its own in its human host, one that battles with the person it's trying to take over. There are some who believe the magical virus—being all the same strand—is manifesting the same consciousness into every howler out there like a hive mind or a pando colony.
If you talk to Dorian, he's happy to point out how people with magic are usually more beautiful, more charismatic and alluring, as if the very magic itself is trying to change a host to make it more viable to mate and then create a better host. It's almost like magic is trying to reproduce in the same way biological beings do.
Then there's the fact that magic can be manipulated by will—in some ways, is an extension of will, an extension of the physical body inacting change on the physical world with paranormal energy. Dorian would ask what a shifter really is: a human body that then created a shifter animal, or was it a conscious shifter animal acting like a parasite in a human body as it grew, using the biological basis to build enough energy to gain human form?
Adam, our sneaky tech sorcerer, has a different theory about magic based around how magic doesn't decay and it doesn't transform into normal energy even though it can be created by energy. It's only active with will. He thinks that magic is an extension of consciousness but not necessarily conscious. William, the resident elf halfling at the Academy has a different theory. He thinks magic originates from outside the known universe and is mimicking the life that it finds here, not necessarily consciously but consciousness being created as it mimics conscious beings.
There are a lot of different theories in the PATB world as to just why magic is the way it is and where it came from. This is one of those questions that no one really knows the answer to, the same way we don't really understand what consciousness is or how it comes to be in our world.
So, what do you think? Did I nerd it up just a little too much for something as simple as 'magic did it?' XD
What is Theodore Howld's goto magic?
Theodore, our badass grown up dragon shifter is usually seen using his beast magic, which is basically his dragon's preferred default. This includes allure to draw prey in, extreme force by manipulating air molecules to crush and incapacitate his prey, and an amazingly powerful energy drain that can feed/heal his dragon and kill his prey all in one go. Sever, the name of Theodore's dragon, is an apex predator, partially in response to so many paranormals having been hunted down and wiped out by skinners. I like to think of Sever as what nature/magic created to adapt to being hunted.
Curious what Theodore's sceptre might look like in real life? A little bit like this, but it packs more than an aura punch. XD