Stephen Bannon is out of the White House! Fuck Yeah!!! <3
Hey. XD It's been a fucking crazy week. I'm so glad I sent out last week newsletter before looking at the news because I just don't think I would have had anything focused. I'm putting all the political stuff at the bottom so those happy to hide from it can. But it's there and it's going to remain there until this shit is dead and buried. This isn't a battle we're allowed to lose.
Poster Giveaway Winners!
I've messaged/emailed both contest winners. One was from the Facebook enrollment, the other from the pool of all my website subscribers. So if you're a subscriber and you never check your email… Whoops.
Lol, sorry I didn't warn anyone. I never contact people unless they contact me first so this probably will seem random. But I had a lot of fun with this contest/giveaway, and I want to do more in the future. Like crazy fun shit once life settles down a bit. Did you know you can get really cool messenger bags with whatever you want printed on them? <3 Yeah, that kind of crazy fun shit.
Also, are people interested in posters in general? I was thinking maybe offering them on the website for fans to purchase. It's just a whole new set up of coding… I dread just thinking of it. =_= But it might be fun and for those who didn't win, you could get your fav. We'll see if I can convince someone else in my house to learn how to build some webpages for a change. >_>
Writing Stuff
The writing has suffered this week, to put it bluntly. I rail against reality, demand I not be effected by the world and carry on instead like an unfeeling machine. Ultimately, I fail. If I'm honest, I shouldn't win in something like this. Sometimes what's happening in the world is bigger than my own shit and my goals have to wait. It sucks.
That said, Fox Claims Vince is up and all done (hot little exclusive smut fic) and I figured out how to do comments for the embedded pdf reads. It's going to take a little bit of time to update all the stories with the new format, but for those waiting for comment responses on Fox Claims Vince, they've been moved to the new page with the link that says 'comment section.'
I'm a little sappy (really fucking sappy) and I treasure every comment. I refuse to delete that shit. So I'm stoked to have found a way to keep the comments even as I switch to the secure format.
What else… Demon Bonded: Coven Saga S2 is up. I'm going to be cranking out 2-3 chapters of Intangible (freebie) this weekend. Oh, and I made 23 covers since last Wednesday. O_O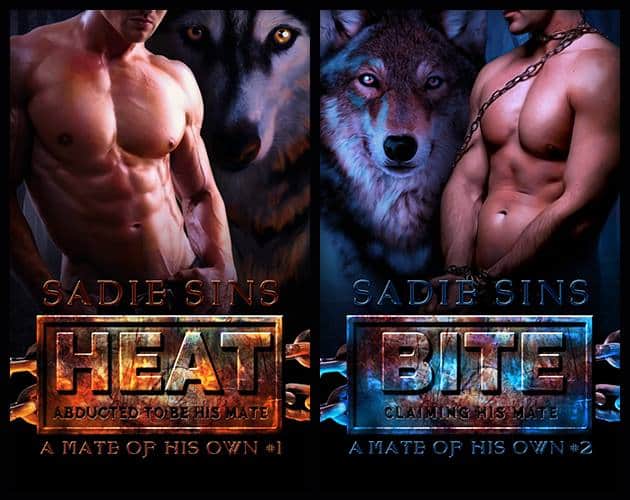 I love how Heat and Bite came out. <3 I will eventually update the covers onto the books—so much fucking work still to do. @_@ Worth it. It is. But what a pile of stuff to get through.
All three of these men are hard and ready for you…
Hephaestus Motorcycle Club: Arizona's never been so hot as in this steamy erotic romance.
Adam is fresh out of high school and on the road trying to find himself and some independence. His mom might not ever forgive him for hitchhiking across the US alone, but at least his dad promised to keep the money flowing.
Things were fine until a crazy old lady left him stranded in the middle of the Arizona desert. No one will stop for him, and the unbearably hot day is quickly turning into a frigid night.
Out of the darkness, an unlikely savior arrives. Chuck's not exactly the kind of person you expect to be riding a motorcycle through the desert, but he's handsome and he's kind enough to offer Adam a ride into Phoenix. He happily takes him up on the offer.
When a rival gang blows up Chuck's bike while Adam and Chuck are both sleeping, though, a once innocent young man finds himself thrust into the dangerous world of motorcycle gangs, guns, and drugs. Will he survive long enough for his one night stand with Chuck to turn into something more?
Get this book collection of hot Gay MPREG Romance adventures in this exciting new collection
In this collection you will find:
Mating Dragon: Gay MPREG Dragon Shifter Romance
Love Of A Vampire: Gay Vampire MPREG Romance
Vampire's Magical Touch: Gay Vampire MPREG Romance
Out Of This World: MM Hockey MPREG Romance
Mating Vampire: MM Paranormal Vampire Romance
Download this collection now and spice up your Kindle with these hot Gay MPREG romance reads.
The Face Of Hate
This week knocked me on my ass all because of the face of hate. It doesn't look different. Those people could have been my neighbors, friends from school, colleges from work. There is no symbol or mark outside of the knowledge that these people would gladly kill someone who looked just like them that sets them apart. For real, some of them looked Jewish, looked Hispanic, looked Italian and Greek. They were Americans. Diverse, different, and for some reason there's a broken message in their head telling them to hate the people around them.
It's easy to pretend we're better, more evolved, that nothing horrible can happen while we live in our cloudy bubble of civilization. Our brains are not more evolved; we still cling to superstitions, fears of the dark and death, and have our innate drives for survival and reproduction. Some have drives that are so self destructive, we murder our own. This week has been a battle with those very human demons and learning how to cope against a darkness that's as ancient as our species.
What a fucking win to see modern tech fight xenophobia, racism and bigotry. DNS servers and web hosters both erasing these people from the Internet to steal their voices. People on social media passing images of the wannabe Nazis and getting them fired and ostracized. All it takes is 'outing' a white supremacist to cull them. I've heard so many who want to defend against it, to say freedom of speech protects those hateful messages. All I know is freedom only exists because it is given and protected. These hateful people would take freedom away from everyone but the white supremacists. If I held the tools of freedom I would not hand them to those who would steal it for themselves alone.
Why should society sit idly by? From birth, this is how we teach what is acceptable and what isn't. If behavior is too detrimental to the tribe, you face exile. Maybe once these exiles stop blaming everyone else for their problems and face who they are and how they're fucking up their lives, they might grow into full human beings. People don't change in stagnant waters, so let them suffer into growth. Let them see why they need the society they aim to destroy.
As hateful as their rally was in Charlottesville; it's poignant to count that was their army out of an entire country of people. You want to talk about an endangered species, meet the modern white supremacist. They know they're endangered; that's half their terror. They culturally appropriate symbols and rituals of hate from those who came before because even in their hatred, they're blind to the fact they have no roots, no basis outside of their fear and inability to accept that every life on this planet is just as valid as their own. They live in the past, in a world that doesn't exist. A world that will never exist as long as we continue to fight back.
I'm up near Boston (live in Massachusetts) and I'm proud of all the loud, brave, fucking angry women and men who showed up to tell the KKK and the alt right to fuck off today. There are millions of us who believe we are equal and just a handful of the hateful and paranoid terrorists who would try to tear this country apart. We will persevere.
For real, I know Trump didn't fire Bannon over ideology. Trump is a white nationalists just like Bannon. He just praised Bannon and Breitbart and hoped they'd fight against 'fake news' (aka, real news) but it's still a win to see him out of our capital. One more down, the rest to go. They're disorganized, they have no loyalty, and when people push back and refuse to give them power, humanity wins.
This was a kick-ass week. I'm sorry for those injured, I'm sorry for the lives lost, but this is a fucking win for those who continue on. Let's make sure it stays that way. Just because Bannon is out doesn't mean he's not about to attack everything we have from his new seat. Never be silent in the face of hate. Never cover it up. Never give them a chance to regroup and plant seeds in the dark. Battle now so we don't have to have an actual war later.
Lol, and celebrate a victory when you get it. <3