?Crazy Adorableness?
Hey babes,
So, for starters I saw Brea has her latest book out, and it looks super fucking adorable—crazy adorable! <3 So I'm smacking it at the top here for anyone who needs a sweet pick me up this weekend.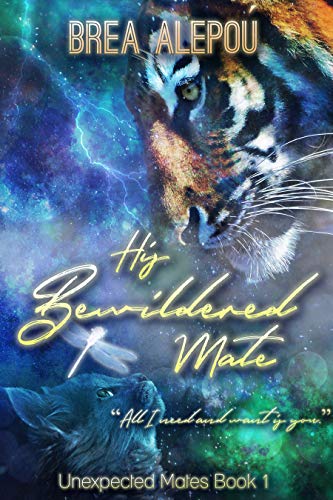 True mates are found in the most unlikely of places.
Rhy, a weretiger with a heart so big, that when an elderly woman comes in looking for her lost cat, Mr. Fluffkins, Rhy knew he had to help. He had no way of knowing that it would lead him to his true mate.
Dillan (Mr. Fluffkins), has lived his whole life wishing he was more than just a cat. He never felt right walking around on four paws. He tried to be a normal cat; tried to talk to other animals but it wasn't possible. They couldn't think in full sentences or communicate. It was more of feeling they had then what they thought. He watched television, so he could studying humans and what they did. He wanted to interact like humans. His owners showed one another so much love and were always doing something together. Dillan ached to have what they have.
Love, loss, and tender moments. A dream to have the one person that completes you.
Warning** Slow burn. This book is shifter Mpreg pregnancy is mentioned in this book. this is the first book of the series. The series will need to be read in order, as new couples will be introduced but old one's stories will continue. They will be intertwined. This is a HEA.
What's up?
I have spent the last 2 weeks really chill. Very calm. Even got a tooth infection last week, but I'm doing really well. Just calm, chill, trying to get used to realizing my body has been tense as fuck forever. I put some blue fairy lights up in the porch I've been using as a writing room, and it's like hanging out in sapphire while listening to some great, calming music. I'm obsessed with Metric at the moment, the album "Grow up and Blow Away" usually playing in the background.
I haven't had a single Parkinson's symptom since I started this calm down experiment. When I notice my stress levels rising, or that I'm pushing myself too hard, I stop, I relax, I unwind the rock my stomach has turned into, and I'm good.
Amazingly enough, because of this, I've stopped thinking of myself as sick. I haven't been thinking in terms of I have Parkinson's or mold toxicity or even PTSD. I've just been thinking, oh, that feels stressful on my body. Let's not have all that stress. It's doing good things for how I think about myself, where I'm not labeling myself with these pretty big, unpleasant illnesses 24-7, and I'm not narrating giant hoops I need to jump through to be allowed to feel okay. It's just about not stressing.
Learning to write calmly
I updated a couple of fanfics on the website the last two weeks. I also added these really quick to read dates so you can see the last time a story was updated at a glance. What else… I've had a few breakthroughs on the writing front. Now that I could see that I was putting so much pressure on my writing, I was able to kind of side step some of that pressure. But only some.
Last night I had a mini epiphany about a big issue with my creativity. I had been digging up these outlines I have of stories I want to make—I love these stories—but I feel so overwhelmed every time I look at them. I don't know if you peeps remember what happened to me a little while back. Instafreebie had decided to feature Blackthorne and I had a mini freak out. The book wasn't well put together. In the matter of a week, I made a new cover, and started editing the 100,000 word book, rewriting large chunks of it. And I was killing myself—I was still sick, and here I was breaking myself over something stupid as fuck. And once it was pointed out to me, I stopped. I let it go… and I haven't looked at editing Blackthorne since.
It was all or nothing.
I have this habit where everything I do is climbing a mountain. It was why I stopped digital painting. I know what it takes to get to the end of a polished, highly realistic painting. I know the steps, I know the hours on hours put in, and I know I can get to that ending and have an amazing product. But I don't want to do the work because, unlike normal people who can pace themselves and do other things while they create, I'm a fucking psycho who wants to sprint to the finish line right at the beginning of a marathon. I don't know how to balance my creative endeavors. It's why they always seemed so rushed—I was rushing to get everything down before I became too exhausted to keep the pace.
I have no idea how to be anything else, partially because this habit was created out of me being stuck in PTSD mode. My body cannot survive that type of creative process. Plain and simple. But my psyche cannot survive a world without creativity either. So I need to figure out how to flow, how to pace myself, how to have fun, how to stop and be able to start up later after doing something else. I have to stop trying to be a writing machine—I'm too organic to be any good at it. XD
Right now, when I look at all the stories I want to write, all I'm seeing are mountains because that's what I turn each project into. I'm hoping if I can see that each project is just a little bit of calm time spent enjoying myself—you know, a nice walk instead of an exhausting climb—I'll start looking at creating differently.
I guess we'll see how it goes… The last few weeks have been amazing. I didn't even think I could get this far in just relaxing. I feel like a different person, someone I didn't even know was here, allowed to exist. I thought it was normal to feel super alert all the time. Now, I can see it was just PTSD that I thought was normal. Life the last few weeks has been feeling a bit like being drugged and happy (without the drugs) because I can be alert in the world, in my life, without being tense at the same time. I just never knew it was a possibility until now.
Hope you're all doing well! ^.^