Setting Boundaries With Expectations
Gaining Fresh Perspective

I was planning on checking in some days back. Had written the whole thing out, only to end up with another anaphylactic reaction and back to the ER. By the time I was out and looking at the submit button, the moment had passed.
So much keeps changing. The hardest thing to find is perspective right now, because of how this condition works. Anaphylactic reaction is your body basically killing itself to fight off whatever set off the reaction. It means that during those moments, the chemical cascade rushing through is defining everything.
Survival to the point of self destruction. It's everything I know about living with PTSD since small, so maybe this was the illness that my brain is most willing to rationalize, possibly even set off because of such a difficult psyche. MCAS can be triggered through trauma, through other chronic illnesses too. There's plenty to choose from.
Things keep changing so rapidly as I start to treat this condition in a way that's actually working. The changes are so extreme on my body. I've regained circulation in my arms. My fingertips, which have been giving off electric shocks since the ER, now suddenly calmed. I regained circulation in my skin. The scratches and patches of scaly skin suddenly have color to them, like washes of sepia.
My executive functioning has changed completely — I can task switch with ease all of a sudden. I'm painting detailed work because my eyes aren't bothering me anymore. My eyes aren't bothering me anymore. The underlying condition is there, but it's not being set off.
I'm not obsessing over anything — I just stop, now. It's the most bizarre thing in the world to have found the kill switch that just wasn't there for years.
And then I'll eat the wrong thing, or smell the wrong scent, and it all unravels…

It's life or death heart racing, throat swelling, mouth and stomach burning, chemical cascade of doom as all my lymph nodes swell up and my skin turns pale and papery and loses sensation.
It feels like zero to near death, just like that, except it's not. I have no proper perspective on this illness because I have been in that stage I just describe practically 24-7, for years now, and it's not near death. It was only near death when my tongue started swelling a little bit more and my chest didn't want to open enough to breathe. (I mean, if you want to get technical and add in the adrenal insufficiency, it was already death…)
And that new stage where I'm not an anxiety riddled, neurotic, inflamed mess? I don't know if that's "zero". I don't know if that's my default just forever out of reach. Or if it's the stage where things are a little better than my previous default, and there's something even better waiting.
I have no clue where I am in this process of healing, only that I've managed to get out of that previous default. And that my body is also now capable of experiencing that rushing toward not breathing stage. Two extremes that, with enough perspective, might actually be dots on top of each other on a chart for how much they are alike. I don't know.
Remembering Me

What I do know is, as the inflammation lowers, and the chemicals that impact my neurology start to fade with fewer reactions, I am slowly coming back to me. I've found that a lot of the neurosis, anxiety, and inflexibility in living is coming from the immune response. In so many ways. There are levels to this.
Just the other night I was defining myself by the state I was in, remembering that version from before the really bad decade of illness, who would be manic every night, hyper-focused on a project to deal with the excess of agony being felt at an emotional level over absolutely nothing. Every night since I was a teenager living in a moldy basement, that's the level of pain I had to endure, and I was suddenly feeling it all over again.
And then I realized, oh, mast cells are more active at night, which is why the meds are taken at bedtime. They have a circadian rhythm, which is probably why not only do I naturally fall asleep around dawn, but that habit of sleep came from following those disturbing, long nights of chemical distress. My bedtime is dawn; I need to take the meds at nightfall.
I cut out eating at night, to give the mast cells in the gut nothing to react to. And I make sure to avoid anything emotional or too energetic at night so the response can't be triggered through stress. Sure enough, no mania, no physical/emotional agony over nothing. The problematic chemicals didn't flow because the mast cells weren't being triggered.
My mental distress is a response to physical illness, and good fucking luck trying to go through a pysch doctor to ever get to the solution for an immune disorder.

Self care has to come from a place of understanding the self. You can't care for what you don't understand. What this illness did to me removed me from my sense of self, and from my sense of being in my body. I have been burning my hands for weeks — possibly longer — and not knowing it. I only started noticing once I had gotten my inflammation down long enough for sensation to return to my hands. I thought I was "over" sensitive because everything was hurting. First the nerve pain and now suddenly I could see the rash on my hands and fingers, and everything felt like pain.
Because I was in pain.
The water temperature of our facet gets too hot, and I didn't notice when rinsing the dishes and washing the cat plates multiple times a day. Every day. I had others test the temperature to confirm it wasn't just a lack of perspective on my part — because that's the thing: my perspective is warped by this illness. For so long.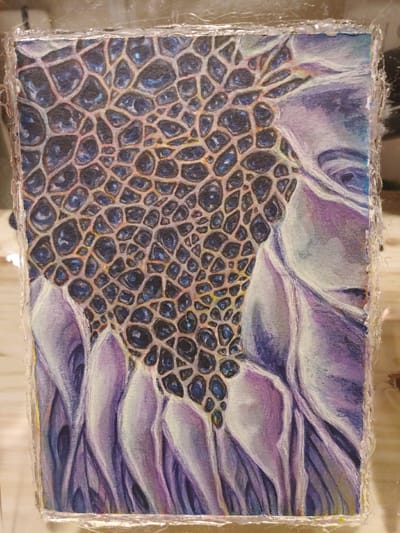 Perspective is something always being built, adjusted by every change, big and small. It's never final, never stagnant… except when our minds become small and shortsighted.
It's like washes of paint, forever transforming something into clarity or revealing a lack of it, obscuring and removing, transforming and unveiling. And in there, somewhere, is the truth, but it will always be limited by the eyes looking and the mind perceiving. It just is.
This is the texture study I couldn't start because of the neurosis. I was able to start working on it this week, around the time of the second anaphylactic emergency. How it started looks nothing like how it is now, and this moment — this snapshot — will be nothing of what its final form will be.
My eyes have been fucked for years, and I just started to come to terms with that, only to learn, hey, the eyes have mast cells in them too. The chemical cascade of the immune response was adding inflammation and strain, exhausting my eyes until the underlying Exotropia flared. But if that immune response isn't happening, I don't have a migraine 24-7 anymore. This week I finally remembered what a boring old headache feels like.
Writing what you know

Part of not getting back to writing is my acknowledgment that I can't write people when I don't feel like a person. I have been so out of touch with living for so long now, and after the last time the mold hit and I built the cleanroom, my brain changed drastically. So completely. I still haven't recovered. I gained enough perspective this last week to remember more of what it was like to be whole, and to see how I am far from it.
My emotions are waking back up the same way the sensation in my hands did. I'm regaining memories — while also becoming aware that I keep forgetting what month it is, what I did yesterday, if I'm near the beginning or end of the month, etc. I can't plot a timeline of what I've been through, and it's scary to become so aware of a deficit I can't even be sure isn't new.
I want to believe the memory issues are a side effect of the bigger anaphylactic response, but I can't know for sure. Not without more time.
I am returning to my body, and it is jolting. Remembering and navigating all these sensations and emotions is difficult, disorienting. And then adding all that intensity into the flares of the illness is, well, extra. Because it was bad enough being in this body when it couldn't fully feel what was happening. Now it can feel more, and it's something I need to learn to cope with.
Everything has changed

I am not driven to do anything but heal right now. I am not driven to prove I am alive by doing things, and that's really the raw truth of what has been pushing me to get back to living while bombarded by the constant chemical cocktail of the anaphylactic immune response. I measured being alive by being able to get back to what I was doing, because I felt chronic illness was taking me away from that. Illness had interrupted my life, something that was holding me from doing what I love… and that was all I could define it as.
I didn't measure it through feeling, because I wasn't feeling much of anything. So there was never a rush to feel better physically once the nerve pain in the face stopped. I ignored my pain and discomfort; that is the fucking default to disability. Every moment is about enduring until you just stop looking at it, stop acknowledging it. And it's shitty, and I can't claim it's the "wrong" way to go through chronic illness, because fuck, it got me through and it was all I could literally do when my nervous system couldn't do anymore.
I wasn't rushing to feel better emotionally, because it was the same damn thing. What was the point of having emotions over something completely beyond my ability to control? Emotions were better invested elsewhere, except mine had numbed so much, there was little to invest.
I don't know if my nervous system was responding to the chronic chemicals, or trying to adapt to make things less painful. Either way, it resulted in my brain — the sharp teeth — deciding everything, driving everything. And when the logic part of the brain is coping, it's with patterns, curiosity for distractions, games that become neurosis. Every thought is essential, and it won't stop shouting those thoughts… to help me not feel what I was going through.
Boundaries with expectation

There is no point in having expectations when your perspective is a sliver wide. I have adapted down to this illness for the majority of my life — certainly since my teens — and I don't know what being healthy is going to look like. I don't know what I'm going to be able to handle to control this illness and prevent it from flaring up, while also living a full life. I just know that I'm not there yet. This silence I've been feeling lately is both full of so much possibility, and absolutely nothing at all, and I will not know who I can become until I am them.
For now, I need to take care of myself. Which means letting go of what I've already let go of this week when I wasn't paying attention. I have no expectations of results on anything in regards to writing, coding — being. I have things I must do in regards to researching this illness and navigating diet changes and supplements, and everything else is just… being. Feeling. Remembering what it is like to be a living, breathing, empathetic being that feels.
I'm looking forward to it. Looking forward to remembering what it is I was writing that I couldn't get back to because I had forgotten this part of existing. And that's the thing; you can't separate a creator from their experiences and expect them to be able to write something whole.
I was fighting this, knowing that I wasn't ready to write because I couldn't connect with the part of me that feels my writing. So the logical brain came in and said "fuck it, do it anyways." Because that's what the rational does. It talks about measurements of gains and loses. Money. It talks about no one being able to see through the facade. How there is value in going through the motions in the hopes of jump starting what isn't flowing. There are so many reasons to just "do the thing" that I completely agree with. But creativity is a whole person experience. It requires the psyche to be there, adding important context. And mine just wasn't showing up.
Be it physical malady or psychological side effect, I couldn't connect and get into the state to understand what I was trying to write at the level it needed to be understood. Hence I couldn't figure out how to edit it, because I didn't know what exactly I was trying to say in the first place. So the neurosis stepped in, hoping to find a logical answer to the wrong problem.
Faking it doesn't work, but it feels like doing something…

I wanted to be okay. And to prove I was okay, I wanted to do all the things I couldn't do because illness kept getting in the way. So I wrapped everything about my ideals of getting better into getting back to writing, even as I promised myself I would be gentle with myself. But I wasn't, because I couldn't feel the pain I was inflicting to begin with.
I just wanted to be better so desperately, that I was forever looking at the goal I needed to reach to prove it. Never at myself. Never at the hurt, the illness, the pain of being left behind in life. The goal was far less painful to focus on.
Perspective frames everything

I can only understand this because the chemicals that were bombarding my body are doing it less now. There's no point in me beating myself up over doing the only thing my brain chemistry would allow. And now that it's shifted, it's still the same lesson. There's no point getting upset that I can't hold onto the motivation to get back to writing to the point of self destruction. I'm not that person any longer (until another flare, I suppose.)
Things will happen in the time they take to happen, and it's exactly enough. I feel so much pity for that other version of me who was desperately trying to prove everything was okay by neurotically going through the motions, unable to get out of the trap. Unable to feel how nothing was okay, and that trying harder at what wasn't working wasn't ever going to solve it.
Everything has shifted drastically, from health to perspective these last weeks, and I don't know where it's going to balance out. But I remember myself more, am more in this form, in this life, and I am better for it. The suffocating feeling that has been following me for so long… to realize that was real, that the anxiety and feelings of dread — like death was going to slam down at any moment — was part of the chemical cascade that goes along with your mast cells over reacting all the time… There's peace in understanding that. More so once I was able to pull the reactions back more through eliminating histamines. Even as I observe the smallest things setting off the biggest reactions in this body, I still have that feeling of peace from this fresh perspective.
I have lost a lot of time to this illness. I'm probably going to continue to lose time to this illness. But trying to solve that by breaking myself — doing more and getting nowhere — doesn't feel like a viable option anymore. I can feel things again; I want to enjoy the experience of living. I want this change to sink in and continue softening these straining muscles and anxious, rigid expectations until it all dissolves into soft foam. I'm tired of the only thing I feel being pain and anxiety and the forever hovering exhaustion. It's time to experience more.