?The New Book Is Live! (alive?!!!?)
Hey babes,
All right, it's official. The first episode of the paranormal Academy for troubled boys is live! Preorder peeps, it should have been delivered to your kindles. For KU readers and those showing up late (well, on time, really >_>) you can go and read it now! Get it, get it, get it!!! <3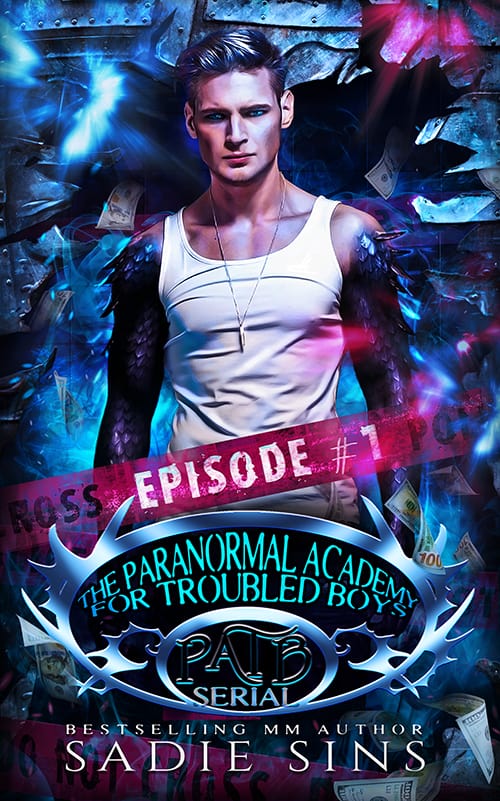 Once you're done reading, I would totally love it if you reviewed. I'm looking for as much feedback as I can get on my new writing style… I'm not nervous at all, totally. @_@
Okay, I'm totally nervous =_=
Why is everything a trial by fire thing with me?!!! Seriously, ugh. I'm so tired of being a crazy person.
So, I didn't actually realize how nervous I would be to release a new book after all this time. I don't think it's even about releasing a new book, if I'm really honest about it all. I think a part of me is afraid to see myself healthy, and even more terrified to see myself successful in the things I do every day. I have been avoiding emails—as freaking wonderful as everyone has been, it's only triggered this crazy thing in my head all the more. I've been very focused on work, and when not that, quietly freaking out in the little corner of my life.
I am very good at facing that which doesn't allow me to run away. A body that breaks down, suddenly bedbound, random weird shit happening like multiple chemical sensitivity, feeling like my brain is burning, the Parkinson's. I took those things on because if I didn't, it felt like death. But for some reason, moving towards being a different person through the success of my writing… also feels like death for me. >_> Yeah. *sigh* I think my brain is wired for PTSD at this point, and as such, I have a responsibility to deal with all these weird psychosis head-on.
I guess fear of success is not uncommon for those who have experienced trauma. I was reading about it all last night while trying not to have a freak out as I saw my preorders hit. This is why I didn't want to advertise and just focus on writing the next book. I didn't want to face the things I needed to do to make this book sell and therefore change my life. I can see it now – self-awareness is such a bitch – and yeah, I'm going to have to figure out something. Therapist, very likely. I refuse to be trapped in my life over my own damn brain.
I'm wired for these types of problems. If you notice the new disclaimer in this current book, my 'sensitivity disclaimer', it might seem quirky, or even insensitive depending on who's reading it. But the reality is, that's something I need to remind myself. Not just with books, but with also movies, art, stories people share about their lives about things not happening that moments. I talk about this particular problem a lot, because it was once how my brain saw things 24-7. I'm not just reminding and reaffirming with people, but also reaffirming my own mind the difference between fantasy and reality. Trauma wired my brain in a messed up way, so when I have a narrative, a story about myself that I share to the world, I don't always get to know that it's a narrative, a fiction—that I am more than a bunch of words on a page or the thoughts in my head. It's important that I remember—that we all remember—that we can be more than how we perceive ourselves to be in a moment of depression or low self-esteem.
I know, this is some heavy shit to be talking about when it should be all happy the new book is out kind of stuff. I have this difficult habit of being far too real. Go read, enjoy, and please review. Reviews are needed for that success aspect of the book, but it also lets me know if people want to see more of something. Oh, and don't miss out on the books below!
I hope you're all having a wonderful weekend, and I'll be hitting you up fairly soon. The second episode is already on preorder and will be released on Valentine's Day. Yeah I went as cheesy as possible with that, because it's when we introduce Dorian. XD It's always good to do Valentine's Day right with sparking sorcerers and hissing dragon shifters. 😉
Happy reading!
Books worth snagging <3
MM Freebies, KU, and new releases