?Wow, I really wasn't expecting that! (plus coffee obsessions)
Hey peeps,
I had ideas planned for this newsletter but I just… well, I got sick. I am feeling ragged, run out, just doing too much. I had hoped that I would have recovered by now, but my body is telling me very persistently to rest, and I am foolishly fighting it even now. (Btw, if you emailed me, I will get to you. Just being slow atm.)
So maybe we can do some catch up? I know it's been a while. I've been pushing the books hard—speaking of which, the latest PATB Serial book hit #1 in New Releases for LGBT Fantasy Fiction!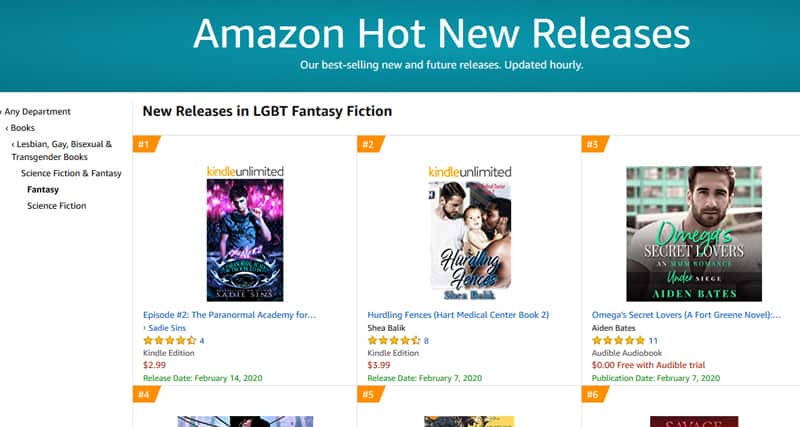 Yay! If you missed it, it's out and gorgeous. We finally catch up with Dorian, who has spent the last 3 years at the Academy trying to get his shit together, only to fall madly head over heels (in as resistant a fashion as possible) with Wylie-fucking-Doe and his hissing inner dragon. Check it if you missed it. It's in KU for you kindle unlimited readers.
So yeah, there's that (yay!) Uh, I threw together a cover for the next episode but it's a draft atm because—guess what? I decided the episodes needed title names and not just numbers. I was kinda super lazy doing the bare minimum there and realized it was a disservice to anyone who wanted to try the books out and had no clue about anything inside. So now, titles! (Once I can figure out how to arrange all the elements so it doesn't look like I just crammed a ton more words in there. @_@ These are some rather busy covers already…)
I'm not doing a preorder yet. This month has kinda proved to me that I'm ignoring my limits, and I need to figure something out with how to go forward. It might be that I plan to release a book every 6 weeks instead of every 4, or maybe even a book every 9 weeks—I don't know yet. All I know is that I'm struggling with my current pace and I might have to change things up as I go along. There were definitely perks to having a preorder with a deadline. When the days started creeping up and I saw the deadline looming, I got shit done. 10 days and bam! Book! But there were other issues, like me totally working beyond my limits to make that deadline. I'm a very all or nothing person and it can be pretty self destructive if I'm not careful. For example…
Let me tell you about my short love affair with coffee <3
So, for the last two weeks coming up to when I got this book published, I did some big changes. One of those big changes was removing all sweeteners from my diet. Even the good, healthy, natural ones. I cut them all out because I suspected (and was unfortunately right) that they were setting off my immune system and triggering the autoimmune. Removing them was great. I could focus again, I could write, everything was flowing and I felt so good. But there was the drawback of a lot of the things I enjoyed had some sort of sweetener in it.
My morning routine would be to wake up and eat a Questbar before sitting down to write. Easy, simple, uncomplicated. But when I saw even stevia and erythritol were making me jittery and stealing my focus, suddenly I had to figure out what breakfast was without feeling, well, bereft of my treat, I guess. I'm a sugar addict. It was my comfort as a small child and I have been seeking some sort of sugary flavor my entire life. Going cold turkey was really the only way I could make this work given my nature, so I chose a different addiction to seek out (of course I did—don't give me that look XD) and it was coffee.
I was crushing hard on coffee this month. I started with instant—you know, the bare minimum—but as I felt like I was losing without having that sweet flavor, I started really throwing myself into the hobby of coffee. I got a mini 4-cup French press, got a milk frother thingy that mixes everything up, even some protein powder and powdered goat's milk to throw in there in the morning. It's been good, really good. Except at some point, I forgot that my adrenals are still iffy, and the caffeine I was drinking every day was squeezing the life out of the poor little buggers, and yeah, I crashed, hard. Funnily enough, shortly after I finished the book—like, by days. It was like my body was only allowed to break once I was done; I'm really a monster to myself like that. @_@
I realized I must have been ignoring the signs that I was working so hard, masking it by reaching for caffeine and just pushing past my limits. Not good. So I have discovered decaf—which is fucking awesome, btw! I can now have coffee whenever I want while also going back on my adrenal meds for support until I get myself back to healthy. I'm still off sweeteners, which is also great. There's a lot of things I'm probably not going to be able to have again, if I'm real about it, but I guess time will tell. I'm excited to have stopped my immune responses so well that now I can notice when I screw up and eat something wrong and get sick, instead of being sick constantly and not knowing why.
I have been so excited to be able to write again, to just be in the flow of it all, that I did that thing I tend to do, which is kick my own ass going after a goal. I have to reevaluate some things, see if I can pace myself better to avoid what happened last time, etc. I think I don't want to actually put the preorder up until the book is 100% written like I did with episode #1, giving me a chance to do the publishing side of things during that week before it goes live. I guess we'll see. I'm feeling a bit like a long distance runner; I need to plan everything so differently from my old mentality of just sprinting like mad at a goal. It's a different kind of strategy that I'm still learning—one I'm sure that will be super worth learning once I do.
Hope you're all having a great weak—and don't miss the reads below. There are some awesome books there this week, including Wendy's new take on the Alpha/Omega trope that people are loving like mad!
MM, LGBTQ and RH Reads
It's a world gone mad. The Alphas are out of control.

When you discover you're not who you thought you were, the nightmare begins.
KRIS
At age eighteen, life as he knows it is over for Kris. A secret to his nature he was not aware of has been revealed.
Now, kept as a prisoner in a locked room in the mansion of his wealthy father, Kris is at the mercy of Alpha laws and Alpha domination.
Things take a turn for the worse when his own litter mate threatens him, and his father starts behaving strangely around him.
Escape is his only hope. But where can he go in a world that allows him no rights?
THORNE
Marked as a dangerous Alpha, and living a secluded life alone and unloved, Thorne still grieves for the mate whose death he feels responsible for. Years have passed, and he refuses to even try to function in normal society.
One day he discovers a young man on his property, disheveled, desperate, and scared. He acts like a runaway Omega, but he doesn't smell like one.
What is this boy? And why does Thorne feel an immediate need to protect him? To bond him? To make him his?
A non-shifter, Omegaverse love story of rescue, first time, fertility issues and an HEA. Standalone read. 65,500 words. (While Omegas are birth-fathers in this universe, there is no on-page mpreg in this book.)
A night of passion with a Cat Shifter escort becomes everything for a man with poor self-esteem.
To mend his broken heart, Seth purchases a date with a Cat Shifter Escort. The sex was so amazing, it let him forget his pain. Seth never expected to see him again.
Nao couldn't forget the client who'd cried in his arms, so destroyed from love gone wrong. He wanted nothing more than to help the beautiful, broken man.
Their night was supposed to be a onetime thing, but six months later, everything changed when they met again.
Years ago, the true king of the vampires sacrificed his throne and his fated love for the common good. But it wasn't enough…
Rune knows the Adini Treasure is real, and he wants it. With the treasure, he'll have the power to crush his enemy—the Adi 'el Lumi—forever.
Isaac longs for love but is sick of waiting for it. When he witnesses the murder of a strange vampire with an even stranger map, he isn't sure what he's found. But he isn't letting it go. Not even for the swoon-worthy vampire prince who comes to claim it.
When a witch's calling card leads Rune to a snarky vampire with secrets and a sassy human with a treasure map, he takes them on a perilous hunt into the forgotten vampire cities. His worst fears and darkest desires await him. With everything at stake, he'll have only one chance to either fulfill his destiny… or save Isaac, his fated love.
Don't miss the exciting, heartwarming conclusion to the Ellowyn Found trilogy!
Heath
It's a classic story: Boy meets girl, girl breaks boy's heart, boy pretends to be gay to get back at girl, girl outs boy to everyone on Facebook…

Okay, maybe it's not that classic. But it's what happened to me.
When I bump into my cheating ex and catch sight of the moon-sized rock on her finger, there's only one option to save face: pretend to be dating my gay best friend, Declan.
And when she outs me on Facebook and everyone I know sees it, there's still only one option: keep pretending to be dating Declan.
And when Declan and I have to kiss to keep up the ruse and it turns out there's actually a spark between us (more like a blazing inferno, if truth be told) there's once again only one option…
Warning: this book is not appropriate for anyone who doesn't like laughing, anyone who doesn't like dogs, or anyone who doesn't like hot men having a lot of sex…with each other.
Falling in love with your brother's boyfriend and pining over him for a decade? It can't get any more complicated than that!
Van found the man of his dreams on his fifteenth birthday. And promptly lost him on the same day when he realized Parker was dating his older brother, Taylor.
Ten years later, Van still nurses his unrequited love, but Parker and Taylor are no longer together. Too bad Parker only sees Van as an inexperienced kid, or a friend at best.
If Van plays his cards right, he might get a chance to tell Parker how he feels. With their complicated histories and Taylor wanting his husband back, their situation is as difficult as they come. Will Van finally get his man, or will he have to give up his teenage fantasies once and for all?
Don't Call Me Kid is the first novella in the Just Don't contemporary gay romance serial. If you like your romances on the angsty side and with a touch of complicated family dynamics, then this first book will have you craving for more in no time.
An isolated mountain estate. A hidden lab. A dark secret that threatens the entire vampire race.
When vampire Emilie takes a new nanny job at the remote mountain home of Dr. Owen Bennett, the last thing she expects is to be thrown head-first into a dangerous mystery.
After spending the last hundred years believing she was alone in the world, the undeniable chemistry with handsome and eccentric Owen⎯who she suspects may also be a vampire⎯promises a future she never thought possible.
But…things at the Bennett house just don't add up.
Owen's ex-wife has seemingly vanished, he refuses to divulge who he works for, and he keeps his research under lock and key.
Determined to uncover the truth, Emilie discovers a secret that holds severe repercussions for all her kind.
When dark forces intervene, Emilie is forced to make an unthinkable choice – between newfound love or what she knows to be right.