Babes, I've got a treat for you this week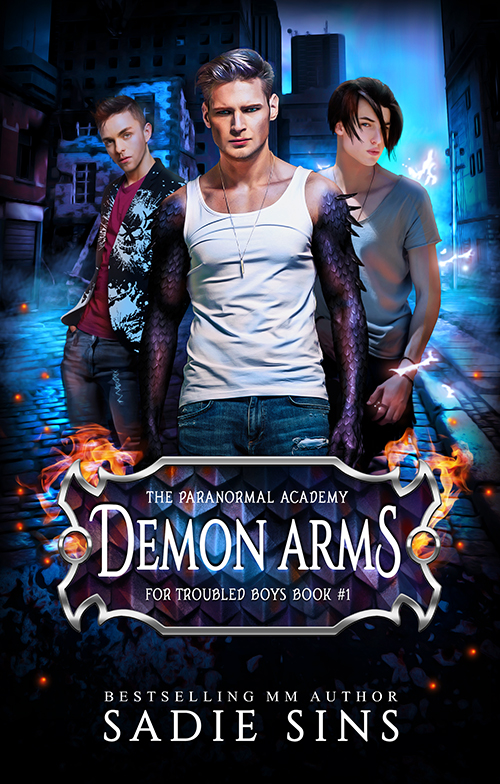 New Demon Arms Cover!
Wylie's got his arms out (so sexy!), Dorian's sparking hot, and yeah, that's Beck in the background cuz why the fuck not? He'll be back in later books so might as well see him now. (I could so see Adam with the help of Beck ending up leading one of the magical gangs that hang in Orphic District…)
I'm Not Breaking It…
Lol, so if you're guessing given the epic nature of this cover, I have plans for the series. Part of those plans is an extensive rewrite of the first book. Before anyone freaks, I'll be releasing it as a second edition (ideally the same time or right before the sequel.) The original Demon Arms will remain untouched. But this series is changing to suit a different type of pacing—and to be quite blunt, as I recover my health, my brain is changing and turning me into a different type of writer. Hopefully, a better one, but eh, that's completely subjective. Hence leaving the original Demon Arms alone. I want to create a more immersive, detail oriented experience without my moldy brain making things confusing, but I get it. Some people like things just the way they are and I'm not about to punish them over it. I published it and it's no longer mine to fuck with.
I had a lot of ideas for Demon Arms when I first conceived that book, ideas I tossed to the side because I felt restricted by the whole mold toxicity, and by the format of a romance novel. I rushed the beginning because meeting the love interest late into a book just wasn't done, and I hid a lot of details, and didn't flesh out the world because, well, I wasn't good at world building and settings and descriptions. I couldn't visualize and I was just tired and wanted to finish the damn book. >_< I felt those format restrictions even more when I found myself over 160,000 words into Sorcerer Slayer trying to tie up all these ends that weren't ready to be tied up.
I want this to feel like a TV series, where books are seasons where you have this overarching plot line pushing everything forward while we get to really explore the world and characters living there with smaller plot points and events. It can't just be one relationship focus book to book because it's about a cast of people interacting, not one neat, tidy a+b=c kinda format. I had to let go of that romance ideal of getting the perfect, neat ending by the end of the book when love lines didn't match plot lines. That, or Sorcerer Slayer was going to end up being like 400,000 words. @[email protected]
I've actually broken Sorcerer Slayer into 3 books—Shiny Thief (Raider), Sorcerer Slayer (Vincent), and Manic Fool (Fox)—which are mostly outlined and being fleshed out while I finish up the first out of what I've already written for Shiny Thief. And I'm working on the Demon Arms rewrite—my fuck, it feels like a draft. I remember getting pissed when someone said that in a review, but now I see it. My broken brain was limited and no, you really can't see outside of your own damn brain no matter how hard you try.
It's been a lot of work. I love every moment of it, but it's taking my time and I'll probably be doing less newsletters until I learn to balance. I need to find more effective ways to write while also having a life. I was burning myself out again and lost my happiness. A big decision I made is to put aside a lot of other stories for now. I have three main series focuses as I move forward, which is Hellcat, Demon Bonded, and The Paranormal Academy For Troubled Boys. Everything else will have to wait until I get these series finished. I'm practicing outlining techniques on a few rogue stories, but that's it. These three are my main focus.
Lol, if you want a visual as to where this book has been in relation to the health of my brain at the time of writing it, the covers paint an interesting picture.
It's like watching the fucking neurons restore in my brain. I swear I used to be an artist before I got sick. Now I'm terrified to try a painting from scratch for fear of all I've really lost after years of learning how to paint and draw… Anywho.
It's been over two years since I got Demon Arms out. My priorities were very different back then. I was very different—how weird to not live overwhelmed with anxiety anymore. I can remember clearly just spending a week freaking out when I went in and did an edit for Demon Arms to clean up the biggest complaint which was my use of terms like 'the boy' and 'the blond.' XD Now I'm all, fuck it, and I just take the time it takes. Good writing takes time and I'm not a computer.
I wanted the sequel to already be done and published a year ago, but that said, I'm really glad I gave it the time to grow. It's one thing to not obsess and be stressed out by writing; it's totally another to refuse to put the work in and learn from every book that came before. I want to be better. I want to create a series I can be proud of—one that people are never going to want to leave. It might not come as easy for me as how I was writing before, but I feel better for trying and pushing my limits. I'm growing instead of that stagnant place of just hoping to stay afloat, and I want my creations to fit that too. Growth is good.
Fan Service <3
Ah, before I forget, the fabulous Jess has gone through the trouble of setting up a Discord fan group thing for any Sadie Sins fans out there (I know, I sound like a dinosaur. @[email protected] Computers are what now?)
If you enjoy chatting with peeps on the Internet, you may like doing so about the odd things I write or just mm topics in general. I will not be observing these chats (aka, bash me if you like. XD) I wish I had it in me to be a particularly sociable person and all, but eh. I'm happily an introvert who peeks out of my shell once in a while to answer emails or bitch on facebook. But that doesn't mean properly sociable people can't have fun!
If you're interested, I have some pretty wallpapers to go with the new Demon Arms book cover.
Oh, also, if you're expecting something from me in the mail, I'm getting to it this weekend, promise! Sorry I'm such a flake. I've been cleaning, dealing with a sick cat (my neighbor's dog ate my homework. XD) Sending it out asap.
Free!
Since he was thirteen, Sebastian's every precious moment was connected to his first crush, Edi. His protector through his toughest school years, Edi has always guided Sebastian's choices. Love, lust, the realization he was gay, his passion for sports and karate, his studies and career of choice, everything in Seba's life is somehow linked to Edi.
Sebastian's love never faltered over the years, not as he challenged himself to catch up to Edi. Nor when Edi's on and off boyfriend, Robert, showed up to wreak havoc in their lives.
Sebastian has shaped his life to revolve around Edi—his friend, roommate, and occasional lover. But is that the right path for him, or should he start a new journey, one that takes him away from Edi all the way to another country? And will running away solve anything in the end?
Alejandro Del Bosque has always known he wanted to be a priest, but when he gets his letter of acceptance to seminary school, he is anything but excited. Suddenly every doubt he's ever had about his path in life comes to the surface and he's no longer sure of anything at all.
He could turn to Cyrus, his childhood best friend, to help him figure out. Cyrus Brand is self-assured and ambitious and Alejandro is almost sure Cyrus can help him figure out what he wants for the rest of his life—since Cyrus knows what he wants to do for the rest of his.
He could turn to his mentor, Lawrence Faulkner. Almost twice his age, Lawrence wanted to be a priest before he settled down with his wife and became a university counselor. Now widowed, Alejandro is almost sure Lawrence is the perfect person to guide him through this difficult process—if he can avoid developing feelings for him.
Or he could turn to his roommate, Montgomery Banks. The man might have no idea what he's doing with his life, but at least he knows how to have fun and that might be exactly what has been missing from Alejandro's life.
He needs to make a decision. He needs to choose his favorite sin.
Dear reader: In this story, you'll be the one to make decisions which directly affect the outcome of Alejandro's story. This is a romance and does not end in a cliffhanger.