?Of Cleanrooms, Interactive Novels and Politics?
Hey babes, I'm alive.
It's been over two months since I checked in. >_> Sorry. Things are actually pretty good. It's hard to put it in perspective because of how the country has been so crazy — I'm in the US with covid cases jumping up again as we 'reopen,' (why yes, we're run by morons) and we're in the middle of some long needed and 100% justified civil rights protests to support Black Lives Matter. It's kinda hard to want to write anything about myself right now, because I feel like a grain of sand in the middle of these huge moments in history.
I'm a doer, a problem solver. When something breaks, I immediately think of a million ways to fix it, and then I experiment until I get the solution that works. So it's hard to live in a country where fixing things isn't a thing. We talk about innovation in the US, but all we innovate is how to part money from people's wallets. It's never about real change, and this place becomes ugly and decaying and stagnant as a result. There are so many in pain, living on vapors their entire lives who are never heard, never represented in this country. Sanders being brought down by status quo Joe Biden, the most conservative mouthpiece in the Democratic party — it breaks me every time to see how pathetic this country is for what we settle for while claiming we're revolutionaries. (The revolution of sitting on our asses bitching about pointless shit. :/)
I'm really proud of the protests, of the changes being demanded, and I truly hope they don't stop until real change comes. I have no love for the police, and even less respect or trust. No one's life should be put above another, and no system should be in place to do exactly that.
But yeah, speaking of solving problems.
I made myself a cleanroom/bubble…
I transformed my moldy bedroom and living room into an allergy free zone by building an internal structure out of PVC pipe and wrapping it all in plastic sheeting, basically a bubble inside the room. I ensured there was enough space all around so that the bubble didn't touch the walls, creating a channel of air where the AC and heater could continue to temperature control all around the bubble. Also sectioned it off from the rest of the main house to ensure that any of that moldy air wouldn't mix with the non cleanroom living space.
I then used an air scrubber to pull air in through one intake into a sectioned off area in the bubble (basically zippered it off) where the air is then filtered and pushed out into the cleanroom through these really simple vents I made with the plastic sheeting. It creates the positive air flow required to make this work, (because air scrubbers naturally create a negative air flow that would readily pull all the moldy air from outside into the space if not careful.) There are two exhausts of the filtered air, one going into the office area, and the other into the bedroom area, that way, each room can be shut off from each other just in case the worst happens and one is compromised with mold/allergens. And if it is contaminated, I can just unhook the air scrubber and run it in the infected room to suck up the allergens.
(Note: Air scrubbers have been sold out for months because there's false information going on out there that they can filter covid out of the air. They cannot. If you are seriously worried about covid, there is a cheep, effective solution in the purchase of an ozone machine. I've used them to break down allergens for years now, but they also kill coronavirus, including the covid-19 strain. Read the instructions; ozone is dangerous to health and lung function so don't breathe the shit in. But yeah, ozone– cheep machines versus throwing big money down on shit that won't even work. I don't know why people keep getting info wrong, but damn, it keeps fucking up my ability to get basic stuff for allergy survival. @_@)
Anyways, I now officially have an office, all focused on my writing and art. I can turn a wall into my outlines and no one will complain. XD Oh, I missed having my own room. Living on top of people (messy people, at that) can get tiring really quick.
I'm waiting on a latex mattress for the bedroom. They're supposed to be really good with people who have allergies and multiple chemical sensitivity. I had to throw out my old mattress years back when it was destroyed by the black mold. But even this, just having the cleanrooms and spending most of my time in them, my health has bounced back. I can read again. Like sit down, and get lost in a book, and not have it feel like my brain can't focus. I'm looking forward to seeing how that translates to editing, actually… I'm not 'cured.' Aka, a lungful of mold still knocks me on my ass, same with me having insomnia and itching all over if the cats so much as jump on a place I end up sleeping. But I recover much faster, and am able to hit *okay* instead of *less sick* when I do recover.
The landlord had sent in a mold remediation crew a couple months back, but my allergies were just too far gone by then. I think some bodies just build neurotoxins up and can't clear them out after a mold exposure the way others can. I gained so much weight when the white mold took over, it really is like the body can't let anything go. The dust, the cats— everything was setting me off. I was living in the car, and reacting to any air that got in. It was pretty shit, all in all. But this worked. And it's not just the way my health is better that's been so awesome about this, but how it's lifted a psychological weight from me.
I know mold is everywhere. The wind blows and there's mold; I might as well be allergic to air. I have never lived in a house or apartment free of mold, and I was seeing this narrow path of misery laid out in front of me of trying to run from mold and gaining only small moments between being knocked out. But now I know I can build a cleanroom anywhere and create a bubble of fresh air. It's not horrendously expensive, and it's portable. It's like being given the keys to my own life, and I'm full of so much gratitude for having found this solution.
Interactive Novels
(aka, adult choose your own adventure books)
Having a space to literally breathe has changed everything, and I'm being deliberately slow in getting back into life as I try to adjust. And don't get me wrong, I've got plenty to be distracted about. My PTSD is on high alert with all the news, so I've been tasking myself with finding ways to have fun —more importantly, remember what fun is. @_@ I'm currently outlining an adult choose your own adventure.
I realized as much as I want to do a visual novel, there are just too many elements that were overwhelming me and keeping me from even trying to move forward. Art, coding an entirely different medium— it's a lot for my mold bruised brain. But a simple choose your own adventure? Way easier.
I doing the dragon gangbang story, using it as one of the paths to multiple different opportunities and storylines. And it's been crazy fun just to plot out. Like, once I decided on areas in the underground, on specific dragon species in each area, certain required items needed such as a crowbar, an amulet, a flashlight, it was so easy to start coming up with all these different ideas. And I don't want to talk too much about it, because I don't want to give anything away! XD I'm doing a secret, bonus branch that you can unlock that will take the reader on a totally different route!!! Gah, it's so fun just thinking about it.
Focusing on trying to fit as many taboo sexy scenes/scenarios in there as possible has been half the joy of this. It's really the strategy of creating the story and trying to design something fun as fuck for the reader that's been the most interesting part. Here's a little idea of my outlining process. I'm using Scapple, which has been so perfect in conceptualizing and organizing it all. (the text should be too fuzzy to read, but it's all early stuff, so if shouldn't matter anyways.)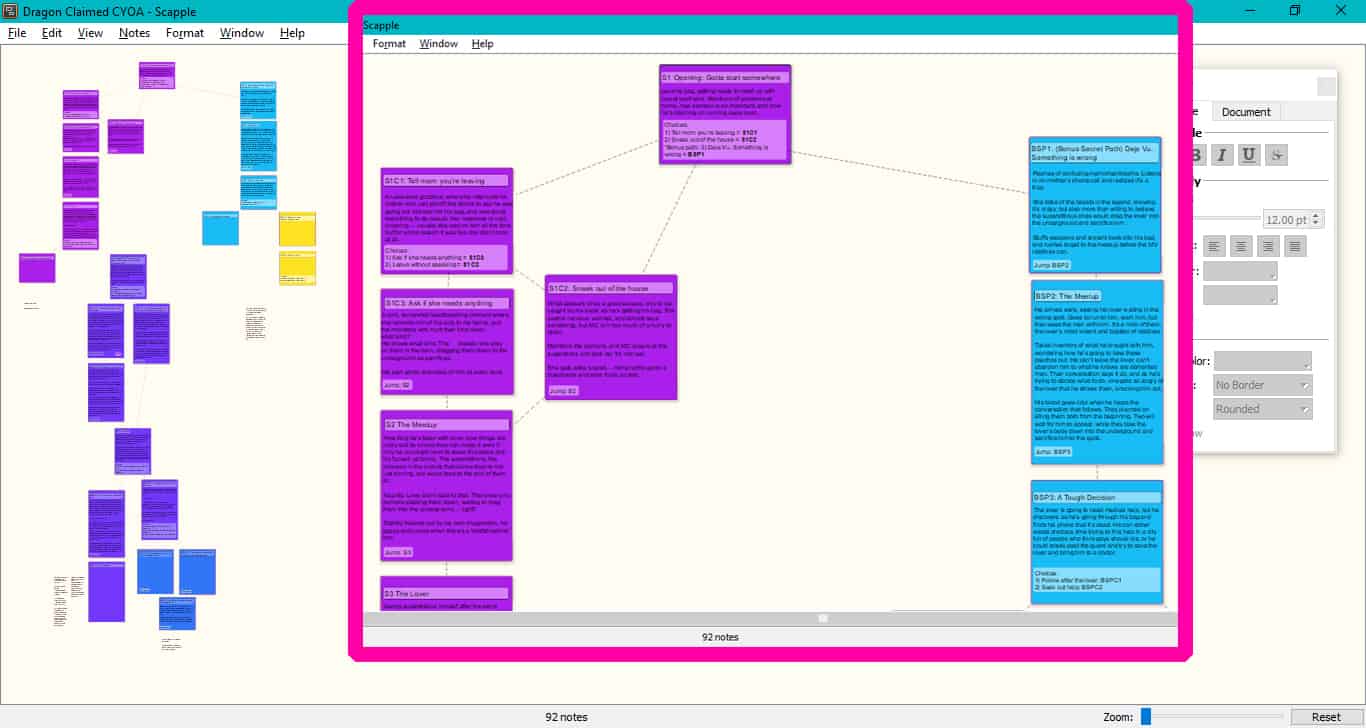 What else… Oh, I finished the Hellcat audiobook which members of the site can listen to. Also did the same for Fox Claims Vince, and finally made a cover for it. I'm still doing the audiobooks while working on the interactive story. It's really important to me that I make the site more accessible. Now that I can read again, I realize just how much I lost during that time, and I want to make sure anyone else who might be struggling in such a way has a ready option.
I do this thing where I stress myself out with these lofty goals every time I get healthy again, partially because I see me not feeling sick as these little windows that I have to sprint through or they're wasted. But when you're healthy, life is more a marathon, and I don't really know how to balance my time or set appropriate goals that won't burn me out. It's something I'm going to have to learn. Don't get me wrong, I love the ambition and the challenge of my work and doing things like writing a novel a month, but this is also in the middle of a global pandemic and civil rights movement months before one of the most consequential elections of my lifetime to date. Will the US finally get a vote by mail system that's accessible to all, or are we watching what's left of democracy crumble into the ocean?
Figuring out how to survive this political shitshow
July is quickly approaching when the covid 19 unemployment benefits of, you know, basic living wage that has been like a lottery in my house will run out, and I'm looking at all the bills I deliberately didn't pay the last months because I knew the moment covid hit, that this cliff would be inevitable, and it's better to have enough $ now to eat than throw away on bills early on, no matter the debt accrued. Covid has not magically cured itself or disappeared with the hot weather. There is no 100% guarantee that a vaccine will be viable, and if it is, not for 6 months to a year. It's a really stressful time, as I'm sure lots of people are experiencing right now, especially those without financial support.
If you're not up to date, or even better, if you live in a country who cares about their citizens, Congress is basically leaving us to die in America. More than half of the people in Congress are millionaires who have no perspective to the wealth inequality they're creating. Those with enough money to work from home have no idea what it's like to have a job where you're asked to go die so that other people can have groceries or gas or fast food. For every person who readily wears a mask, there is another who refuses to, will walk into businesses, get into people's faces and will not be stopped from coughing or sneezing or contaminating others, including the workers who have to be there.
Our government should be paying us to stay home and uphold the public health to prevent an overburdening of hospitals, but instead they looted our taxes and handed it to the largest corporations in the country to bail them out, and they're letting the citizens fail, ensuring that we will not be economically sound enough to do the job of staying home and upholding public health. Partly why some people want to go to work right now in America is because they don't have any food, they don't have any income, and they have no way to get it. They're being kicked out of their houses and apartments because they can't pay to stay there. They have kids who need to eat, and have nothing— losing school meant losing the school lunch program for families in need. Entire states are refusing to pay unemployment benefits because they don't want to give the tax money collected from citizens back to their citizens. They want the people to go to work like a global pandemic isn't happening at all, no matter who dies.
And as stark as that is, it's leading to a larger, even worse problem, because the economic classes are being divided greater than ever before. Wealth has changed hands exponentially where the stock market and fortune 500 companies have seen their greatest gains in decades while citizens are kicked out of their homes and lost businesses and jobs. The mismanagement of covid relief from the government is leading to hundreds of thousands of small businesses shutting down completely because little to nothing was enacted to support their payrolls, to ensure workers would have jobs to go to after this is all done. And larger businesses gobbled up the money whenever a loophole was available. Even when the big businesses gave the money back, that went right into the government's pocket, not to the small businesses that needed it. Fresh graduates have no jobs to go to, unless they want a pittance and to risk their lives and the lives of their families as an essential worker as they clutch their expensive degrees.
My country is looking at a cataclysm of wealth inequality that will be felt for the next decade, easy, with businesses who don't uphold human rights like Amazon taking over our infrastructure (pretty sure we're going to see the Post Office destroyed and Amazon put in place) and Bezos looking to be the first trillionaire ever. All while small businesses are wiped out and those running them won't be able to get credit or cash to revive them because the banks are playing favorites and no one is stopping them. And we're given a joke of a candidate against Trump, a man who wants to turn things back to 4 years ago to a time that led us to exactly why we ended up with Trump and the wealth divide we have. The government is infested with corporatists wearing either blue or red political signs and claiming they're going to fix things while they keep bleeding the American people dry.
The reality is, we have a government who doesn't care about the lives of their people. And it's not a new problem. It's why health care only goes to those who can afford it in the richest country in the world. Why you need a fucking job to be allowed to have healthcare—how insane as millions upon millions of Americans are removed from their employment and they lose their healthcare all in one go during covid. They did nothing to stop it from happening and they don't care that in a global pandemic Americans can't afford to go to a doctor. This is why drug patents are paid for by our government and then handed for free to pharmaceutical companies who then charge gigantic profits on every American who needs that drug. My diabetic brother is getting a first hand lesson of watching his insulin prices jump up during covid — when people have less money — all because the pharmaceutical companies are allowed to gouge us until we're literally dead. It's why minimum wage is not a living wage, and hasn't been for years. It's why black individuals can be shot and murdered by police again and again while they try to survive in an economic genocide that's been going on since slaves were freed centuries ago. It's why our prisons are for profit and not for rehabilitation.
Our government doesn't care if we live. And when that's the reality, the next best thing you can get is for your government to be terrified of the people. The protests are important, and even more so are the riots, and I am happy to support whoever is going out there risking attack by equipment and strategies made for war as unarmed protesters fight against the tyranny of their militarized, tax funded police force. The government shouldn't be comfortable— no one should be comfortable right now until every single person is allowed to be as safe as the most wealthiest among us.
Change can happen, but only if we're willing to be uncomfortable, and willing to let go of our collective apathy.
So yeah, shit is grim. I don't have any glasses rose colored enough to make this not stink like the shit it is. And because my brain is far too aware of exactly all of this, I need to find coping strategies like focusing on how to have fun. And once this adult choose your own adventure book is made, maybe it will help others have a little fun too — because fuck, we all need some damn fun. Revolutions aren't won in a day. This fucking battle for equality has been going on my entire lifetime and far longer before it. We gotta live, even as we continue to fight the good fight.
Oh, and if you have issues with an erotic author speaking about politics, you can suck my clit. I don't care about your minuscule discomfort when people are out there literally being murdered for existing while black. If you haven't figured out what I stand for yet, see my bluntness as a gift.
Hope you're all safe. Hope you're all healthy, and being smart, and not risking you or the lives of your community by being fucktards mid global pandemic. We're all in this together (whether we like it or not.) We are only as strong as our willingness to raise up the weakest. This pandemic is because of our horrendous approach to environmentalism, an approach that will be repeated no matter which candidate in the US is elected because they both don't give a fuck about the changes that need to happen. So hopefully we will find some real problem solvers to step up, because this apathy and looting of the country as it decays just isn't working. Enough is enough.